Sienna Hills Trails
Approximately 3,985 feet of 10' wide concrete trails (depicted in green in the map below) weave through the community. Another 1,663 feet of 5' wide natural trails (depicted in red in the map below) run from the HOA park to the north side of I-15. Additional paved trails loop around the Sienna Heights garden homes (not identified in the map) and paralleling the west side of Washington Parkway from Grapevine Crossing down to Telegraph. Miles and Miles of trails run south of Telegraph, all connecting to the Sienna Hills trails.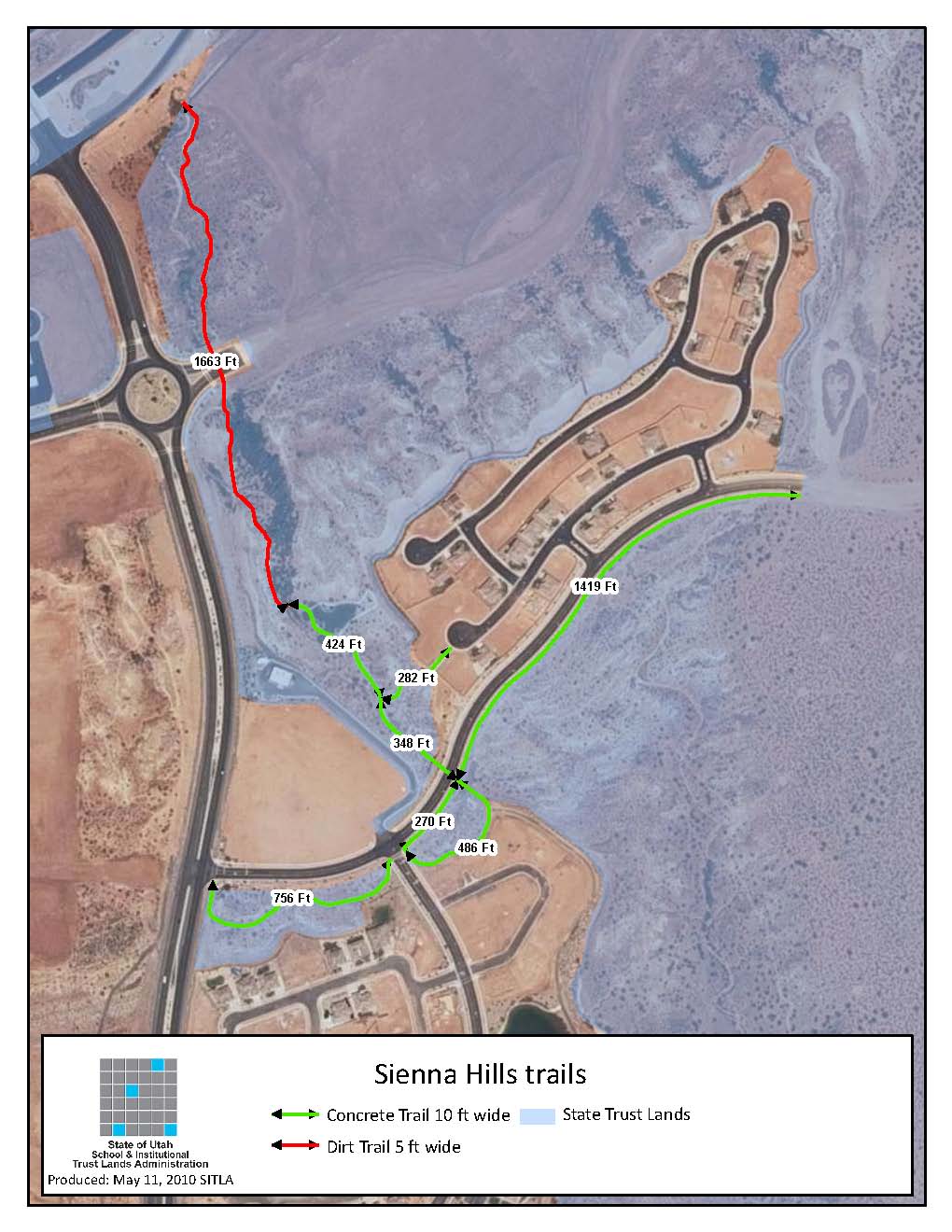 Download Sienna Hills trails map
Download Sienna Hills Trail System map
We would like to remind all dog owners to keep their dogs on leashes while walking their dogs. Here is a copy of the City ordinance:
5-1-5: PROHIBITED ACTS AND ACTIVITIES:
A. Harboring Stray Dogs: It shall be unlawful for any person to harbor or keep any lost or strayed dog. Whenever any dog shall be found which appears to be lost or strayed, it shall be the duty of the finder to notify the animal control or the police department within twenty four (24) hours, and the police department shall impound the dog as herein provided. (Ord. 2012-02, 2-8-2012)

B. Dogs Running At Large: It shall be unlawful for the owner or person having charge, care, custody or control of any dog to allow such dog at any time to run at large. If the dog is at large, it shall be a violation of this section regardless of the precautions taken to prevent the escape of the dog and to prohibit it from running at large. (Ord. 92-13, 4-22-1992)

C. Dogs On Unenclosed Premises: It shall be unlawful for any person to chain, stake out or tether any dog on any unenclosed premises in such a manner that the animal may go beyond the property line, unless such person has permission of the owner of the affected property. (1989 Code § 13-245)
If you see an owner walking a dog without a leash, please call the police.